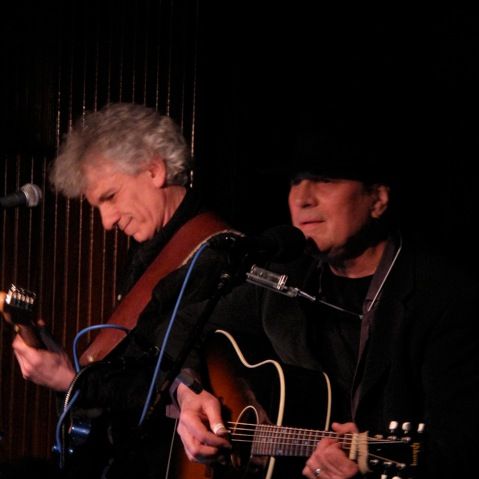 From Eric Andersen's FB page
A wonderful heartfelt review of my album by my long time friend and brother Eric Andersen:
Sometimes you hear songs any songwriter wished they'd written or hear an album you wish you'd recorded. I was listening to Bob Dylan's outtakes from '65 from an album that Steve Addabbo won a Grammy Award for remixing last year called Cutting Edge. Then I went and revisited Steve's own amazing album from 2015. Albums like these don't ever get worn down by time. Steve knows his writers. He and his studio have worked, written, and recorded with some of the best. Suzanne Vega, Richard Shindell, Steve Earle, Dylan, and others. It was my lucky fortune to have recorded and played shows with him ever since we did our album Ghosts Upon the Road. On his latest album called Out Of Nothing the songs and music just keep flowing and flowering. Song titles like Rivertown, Out of Nothing, Left Of Center, Motorcycle, Steam, Empty Plates, My Emmylou, and every one concise and beautifully played. Besides Steve being an ace writer and singer he's a polymath musician. Joining him on the album are musicians like Larry Campbell, singer Caitlin Canty, Michele Gazich, and former Wing's drummer Steve Holly. Both are available Spotify, Amazon, Apple, and the rest. (Now you know how I spend my time and what makes my days!)
'Steve Addabbo's debut solo album is a marvelous collection of some of the best written songs I've heard of late. The title track "Out of Nothing" has a great ambiance of romance, of a slower and more laid-back time...I love the guitar interlude that is so much a part of the smooth flowing melody of this simple yet heartfelt song
. Another track " Left of Center" is an immensely likable song. I found the groove quite infectious and foot-tapping along with Steve's great vocals. "River Town" has a gentle and melancholy-laden quality to it. The lyrics are like a lovely story-book tale that engaged me. "My Emmylou" is classic country, I loved Steve's voice in this track that is so heart-achingly gentle
. Yet another track I'd like to mention here "Beas Theme" has a superb acoustic guitar solo with a haunting cello accompanied later by a brilliantly played slide guitar...lovely! The entire album has a wealth of wonderful melodies and poignant and sensitive writing that have been produced terrifically. I will be listening to these songs for a long time to come
'
Ricky Kej
World Music Artist, Producer, Arranger, Instrumentalist
Checkout Ricky Kej's Shanti Samsara
CD Review Steve Addabbo "Out of Nothing"
Steve Addabbo has been a Grammy winning producer and engineer for the past 5 decades. He now however has released his first album, Out of Nothing, which showcases his songwriting,vocal and guitar skills and is a real pleasure to listen to. The opening track "Cynthia's Kiss"is a very Springsteenish turn that has a great vibe and nice groove thanks to drummer Steve Holly. "Empty Places" and other songs have got a definite organic Nashville feel to them but they were all recorded and mixed at Shelter Island Sound in NYC, Steve's studio. Just shows you it is still about the artist and their talent more than where one records the music. Other Highlights are "My Emmylou" which has a very laid back vibe and truthfulness to it. "Left Of Center" which has a very uptempo hooky vibe to it. There is not a clinker is all of the 14 tracks. Sometimes it's better to wait until that moment is ready to happen. Steve Addabbo's moment is here and I highly recommend his CD "Out of Nothing"
August 30, 2016
Jason Miles
Headphone.Guru


Steve, Congratulations on your debut album. Mature themes, beautiful melodies and some sweet guitar work. Needless to say it also sounds exquisitely produced. "Cynthia's Kiss" reminded me of "Godammit Julia (should have kissed you)" a song by Joe Marson, a young singer-songwriter I like who lives in Brooklyn.

S. Seifert